Marie VelardiBook (pdf)Contact (mail)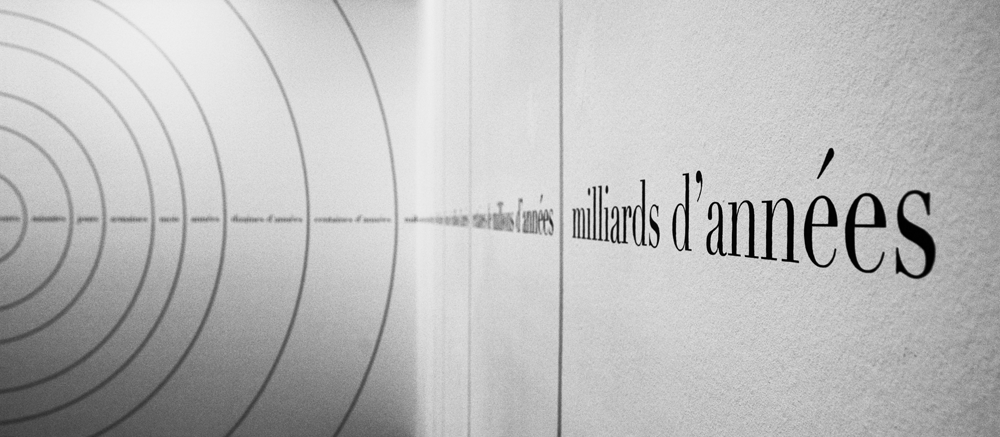 News
Possible Futures, solo exhibition, 02.12.2016 - 28.02.2017
Special Project Space, Dr. Bhau Daji Lad Museum, Mumbai, India
http://www.bdlmuseum.org/exhibitions/index.html#current
PAS DE DEUX : THA - CH. "Contemporary Art With Politic of Ecology", Collective show, 04.02 - 26.02.2017
The National Gallery of Bangkok, Thailand
http://lofficielthailand.com/2017/02/politicofecology/
"Prix Expo 2016" awarded by the Swiss Academy of Natural Sciences for the exhibition "Objectif Terre: Vivre l'Anthropocène", extended until April 2, 2017
Musée de la Nature au Centre d'exposition des Musées Nationaux Le Pénitencier, Sion, Switzerland.
Scenography: Marie Velardi
Whorled Explorations, Catalogue of Kochi-Muziris Biennale 2014, publication 2016
Guide Contemporain – Volume III, Fondation Lémanique pour l'Art Contemporain, publication 2016
Atlas of Environmental Migration, English Edition, IOM, publication 2016
Marie Velardi, Lost Islands & Other Works, Solo exhibition, curated by Matilda Strang, 27.08 - 8.10.2016
Peacock Visual Arts, Peacock Visual Arts, 21 Castle Street, Aberdeen, UK
http://www.peacockvisualarts.com/marie-velardi-lost-islands-and-other-works/
"Tache aveugle - Blinder Fleck", Auswahl von Graphik-Editionen betreibt von ECAV-Sieders-Sierre
Peter Bichsel Fine Books, Gerechtigkeitsgasse 2, 8001 Zürich.
Vernissage: 24. August - 18h. Austellung: 25.08 - 17.09.2016
Muséographie pour l'exposition "Objectif Terre, Vivre l'Anthropocène" du Musée de la Nature de Sion
Centre d'Exposition des Musées Cantonaux Le Pénitencier, Sion.
Exposition jusqu'au 08.01.2017
Matza Aletsch, résidence artistique et scientifique avec Séverin Guelpa, Tom Battin, Jérôme Massard, Emmanuel Mottu, Guillaume de Morsier, Valentin Kunik, Matthias Solenthaler, Marie Velardi, Laurence Piaget-Dubuis.
Vernissage sur le glacier d'Aletsch le 17 septembre à la Konkordiahütte.
www.matza.net
Interractions 4, Exposition du 22 mai au 16 octobre 2016, avec Hicham Berrada, Julian Charrière, Lucy et Jorge Orta, Guido van der Werve, Stéphanie Zoche, Marie Velardi, Liam Sy Paquemar.
Musée d'art moderne et contemporain Les Abattoirs, Toulouse
http://www.lesabattoirs.org/expositions/interractions-4
Révélations, photoghraphies à Genève, Exposition collective du 27 mai au 11 septembre 2016
Musée Rath, Genève
http://institutions.ville-geneve.ch/fr/mah/expositions-evenements/expositions/revelations/
Arbeiten von Marie Velardi bei Vécsey Schmidt Architekten, 2. Juni ab 17:00, zu sehen bis 20. Juni 2016, Klybeckstr. 14, Basel
Swiss Art Awards 2016, 14-19 June, Opening 13 June 19.00 - 22.00, Basel
swissartawards.ch
Dimensione Disegno, Posizioni Contemporanee, Exposition du 23 avril au 7 août 2016, avec Manon Bellet, Sophie Bouvier Ausländer, Raffaella Chiara, Robert Estermann, Franziska Furter, Lang/Baumann, Zilla Leutenegger, Luca Mengoni, Valentina Pini, Didier Rittener, Denis Savary, Julia Steiner et Marie Velardi.
Museo Civico Villa dei Cedri, Bellinzona (Ticino), Piazza San Biagio 9, CH–6500 Bellinzona
www.villacedri.ch
Interractions, Exposition du 10 mars au 10 septembre 2016, Quai des Arts, Cugnaux
"Bienvenue sur la Terre" Oeuvre in situ à l'accueil de la Maternité HUG de Genève, jusqu'en 2025.
"Dark Series, Seconde Assemblée : Pour un avenir soutenable : Art et Culture(s) face à la crise environnementale", Samedi 28 Novembre 2015 à 15h30, Bétonsalon - Centre d'art et de recherche, Paris
http://www.betonsalon.net/spip.php?rubrique42
"Displacement", Exhibition and Roundtable Discussions, "Nansen Initiative Global Consultation", 12-13 October 2015, Geneva, Switzerland
https://www.nanseninitiative.org/antarctic-village-no-borders-exhibition-and-roundtable-discussions/
"Matza / Amboy, Dryland Motel Lobby Lab", dès le 24.08.2015 jusqu'en février 2015, Amboy, Route 66, Mojave Desert, Californie, USA.
http://www.matza.net/matza_amboy_2015.shtml
"La Bête et l'Adversité", Exposition collective et autres événements du 16 août au 17 septembre 2015, Utopiana - Le Commun, Bâtiment d'Art Contemporain, Genève.
Vernissage le 15 août, 18h.
"L'Heure qu'il est", Exposition collective du 29 août au 1er novembre 2015, Cacy, Centre d'Art Contemporain, Yverdon-Les-Bains, Suisse.
Vernissage le 29 août, 17h.
"Impermanence. Le Valais en mouvement", Exposition au Centre d'expositions des musées cantonaux du Valais Le Pénitencier, à Sion, Suisse.
Vernissage le 12 juin 2015. Exposition jusqu'au 3 janvier 2016.
"Môtiers 2015", Exposition en plein air du 20 juin au 20 septembre 2015, à Môtiers / Neuchâtel, Suisse.
Vernissage le 20 juin 2015.
http://www.artmotiers.ch/
"Bienvenue sur la Terre", Oeuvre in situ à la Maternité HUG de Genève, inauguration le jeudi 21 mai 2015 dès 16h30, Hall d'entrée, Bd de la Cluse 30, Genève.
"Whorled Explorations", Kochi-Muziris Biennale 2014, Kochi, India, Curated By Jitish Kallat, 12.12.2014 - 29.03.2015:
http://kochimuzirisbiennale.org/
"Terre-Mer et Autres Oeuvres", Solo show, Galerie Gowen Contemporary, 4 rue Jean-Calvin, Genève, 13.11 - 20.12.2014:
http://www.gowencontemporary.com/
"Salle Ressources sur l'Anthropocène" in "Anthropocene Monument", Les Abattoirs, Musée d'Art Moderne et Contemporain, Toulouse. Co-realized with other participants of the SPEAP program, Programme Expérimental Art & Politique, SciencesPo, Paris. Commanditaires: Bruno Latour et Festival La Novela, 03.10.2014 - 04.01.2015:
http://www.lesabattoirs.org/expositions/anthropocene-monument
Marie Velardi, Oeuvres récentes et projets en cours, au Salon courbe / Fondation suisse / Pavillon Le Corbusier.
Dimanche 29 et lundi 30 juin 2014, de 17h à 20h. CIUP - 7K bd Jourdan - 75014 Paris
Press release (pdf) | Flyer/Invitation (pdf)
"Currents, Curtains, Code", Curated By Raffael Dörig, Bell'Usine de Fully, Triennale du Valais 2014, 14.06 - 31.08.2014.
http://triennale2014.ch
"SIC VOS NON VOBIS - For you but not yours", Curated by Claudio Cravero, PAV - Parco Arte Vivente, Centro d'Arte Contemporanea, Torino, 14.03 - 04.05.2014
Flyer (pdf) | http://www.parcoartevivente.it/
"Aqua Vitalis, Positions de l'art contemporain", Acte 2, group show, Curated By Paul Ardenne, Claire Tangy, Artothèque / Palais Ducal, Caen, 14.09 - 28.12.2013,
http://www.artotheque-caen.net/?nomRubrique=expositions&nomPage=l%A4artotheque&idagenda=158
"In Progress", Group show, 12.09 - …, CH9, rue Charles-Humbert 9, Geneva.
"À heures fixes, pas une minute à perdre", Group show, Curated by Garance Chabert, Villa du parc - centre d'art contemporain, Annemasse, 11.10 - 21.12.2013:
http://www.villaduparc.org/programmation-de-la-villa-du-parc/archives-de-la-villa-du-parc/a-heures-fixes/archive-a-heures-fixes-la-villa-du-parc-centre-art-contemporain.html
"Clepsydres", Solo show, Curated by Garance Chabert, Villa du parc - centre d'art contemporain, Annemasse, 29.11 - 21.12.2013:
http://www.villaduparc.com/
"Vues", Group show, Curated By COAL, Domaine de Chamarande, 30.11.2013 - 30.03.2014:
http://chamarande.essonne.fr/marie-velardi-vues-2013-2014/